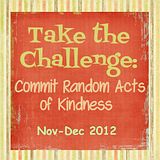 So excited about my guest post for All Done Monkey's
Random Acts of Kindness Challenge
Thank you Leanna from
All Done Monkey
for taking on this initiative, and allowing me to participate.
This is a new series from
All Done Monkey
where a group of amazing bloggers (including myself) have joined forces to take the challenge! This weekly series is inspired by a
blogger
that dedicated her birthday to commit random acts of kindness with her children.
What random acts of kindness have you done lately? Take the challenge! Share and comment. 🙂