If you've been following me for a while you know that I have Puerto Rico on my mind 24-7.   I love creating resources about Puerto Rico and I'm super excited to share them with you.
These would have been awesome to have when my son was little, nonetheless, these will be an amazing resource for children who are of Puerto Rican heritage or if you want your child to learn about the Puerto Rican culture.  Teaching your children about diversity will make them empathetic to other cultures that are different from theirs.
The Spanish Alphabet – Puerto Rican Words
The Spanish alphabet is made up of 27 letters. Previously, the combination of the letters "ch" and "ll" were included. According to the RAE (Real Academia Española), "The digraphs 'ch' and 'll' are definitely excluded from the alphabet, since in reality, they are not letters, but digraphs: that is, sets of two letters or graphemes that represent a single phoneme." It is important to note that in the Spanish vocabulary there are no words with "w." The words that are used are only from other languages. For example, "waffle," "Wi-Fi" and "windsurf."
However, in the Puerto Rican vocabulary, there is a word that uses the "w." "¡Wepa!" this is an expression of joy, happiness, and pride. That's why I've included this word in the ABCs of Puerto Rico.
These ABCs of Puerto Rico flashcards feature vocabulary about the culture, history, geography, flora, and fauna. These cards measure 4 3/4 x 7 1/4 inches (they are large cards), are laminated, and come in a Puerto Rico flag drawstring bag to keep them stored safely.
You can order the Puerto Rico ABC flashcards at my Etsy store.
Puerto Rico's ABC's Reading and Writing Workbook: Cuaderno de trabajo de lectura y escritura del abecedario de Puerto Rico en español (Spanish Edition)
You can order the workbook on Amazon. Click on the book cover below:
This is a Puerto Rico ABC workbook that showcases the culture, food, towns, flora, and fauna of Puerto Rico and a glossary. This write-in workbook features images in black and white for children to color, with the alphabet letters, and words for line tracing.  Ideal for children in grade levels: PreK – 1st and for homeschooled kids too.
Preview the book below: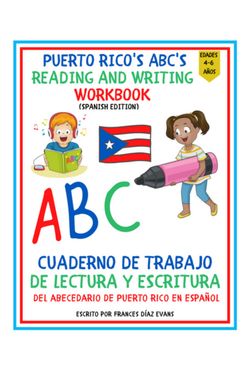 Hope you enjoy this resource and share your love of Puerto Rican culture. ¡Wepa!
Looking for resources about Puerto Rico for kids? I got you covered! Just click on any of the images below: