My child has an imagination and a creativity that amazes me! He loves, loves Angry Birds, and enjoys playing with the game with his Daddy! So of course, now he's going through the "everything" Angry Birds phase. So this past weekend he makes a request…
Little one: "Mommy, I want to make an Angry Birds craft."
Me: "OK, what do you want to make?"
Little one: "Let me think about it."
After a while he comes back with a construction paper, and shows me his drawings of Angry Birds. He even cuts them out himself.
The original "Angry Birds" aren't they beautiful! 🙂
Me: "Wow, papi! The pictures you drew are beautiful!"
Little one: "But, Mommy now we have to make a sling shot, and the castle for the king pig."
Me: "Well papi… Mommy is going to try to figure this one out. Let me think about it. OK?"
Little one: "OK, Mommy"
On Monday, after school little one and I sat down to talk about his Angry Birds craft. I was stumped on ideas! However, after checking out the craft materials that I had at home, little one came up with a brilliant idea! He said, "Mommy, this is perfect for the Angry Birds!" pointing at a bag of pompoms. Ahh, bingo!!! My child has solved my dilemma for his project! LOL
For the Angry Birds we used pompoms, googly eyes, craft foam, and caps (from the fruit pouches). I hot glued the pompoms to the caps. The caps are to make the Angry Birds stand, and also to use with the sling shot. (Yes, I have a sling shot! Lucky for me, in last year's summer clearance I bought two sling shots for 10 cents each! I had no clue what to do with them at the time, and today it's being used as the sling shot for little one's Angry Birds!)
Angry Birds, and King Pig.
While I was hot gluing the eyes to the pompoms, little one was busy coloring an Angry Bird coloring page. Then he wanted to help by cutting out the beaks of the birds. He actually cut out the white bird's beak! 🙂 Then I cut out the rest, including eyebrows, top feathers; and ears and crown for the pig.
I turned the Angry Birds upside down so you can see the caps, and the sling shot.
For the king pig's castle I bought blue and red paper cups.
This was in fact a very easy craft to do, and it was thanks to my son's imagination! He insisted on wanting to make Angry Birds, and he came up with the idea all by himself.
***Check out the Angry Birds Birthday, Angry Birds Party Favor, and Angry Birds Pizza & Cake!
What fun kids craft have you done lately? I would love to hear your thoughts, ideas and comments! Please like, share or pin!¡Hasta la próxima!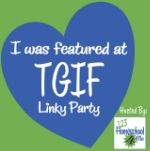 This post has been linked up at Sharing Saturday at Crafty Moms, Rainy Day Mums Tuesday Tots, TGIF Linky Party #67, Mom Endeavors Let's Hear it for the boy – week #2, The Good Long Road's Kid's Co-Op, and The Jenny Evolution Friday Flash Blog #16.